Why Craft Beer Is Becoming the Popular Option
---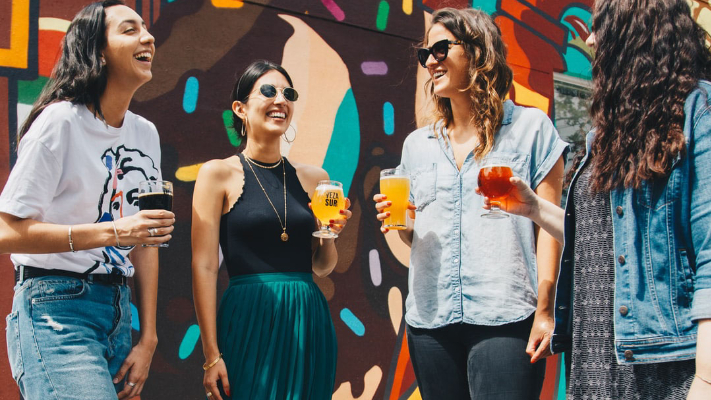 After a day full of hard work, you might need to relax while enjoying your favorite food and beer at your local bar. Good food and craft beer have for long been a popular way to enjoy and spend time with your family and friends. Whether you are celebrating a milestone achievement in your social or professional life, or just having a beer or two after work before going to sleep, you'll want to have the best craft beer and your favorite food.
For beer lovers and occasional drinkers, craft beer has become the way to go. Most connoisseurs will tout around their neighborhood until they find a good restaurant where they can enjoy craft beers and good burgers. Luckily, the popularity of craft beer has risen steadily over the years, and the chances are that you will most likely find local bars with a good craft beer list.
Today's beer consumers are more specific about their beer of choice, and craft beer ticks all the boxes for people who are also out to discover new beer flavors. 84% of craft beer consumers have reported interest in discovering new beers. The trend is also popular among 88% of domestic fans and 93% of imported beer drinkers. Most local bars that serve both food and beer are seeing an increase in the uptake of popular craft beers, especially among the younger generation of adults.
Here are some of the reasons why craft beer is increasing in popularity in our local bars.
1. More Varieties and More Alcohol Percentage
With craft beer, consumers are spoilt for choice as craft beer packs in many sizes and shapes. You can take craft beer from a can or a bottle that you can take with you if you wish. One thing that stands out with craft beer is the passion that craft breweries invest in making the different flavors. You even have the option to pair your craft beer with your food, as craft beer comes in many different flavors. Perhaps the best thing about craft beer is that it contains a larger percentage of ABV (alcohol by volume) ranging between 5- 15%. This is great news for beer lovers who prefer to pay more for craft beers with a higher percentage of alcohol.
Additionally, craft beer has a superior taste due to the high-quality fermentation process that breweries undertake. Given that most craft brewers are local, more attention is paid to the crafting to ensure that the quality is unmatched. The ingredients used in the brewing process are also locally sourced, ensuring that they are 100% organic and are of the best quality. All these factors contribute immensely to the final quality of the craft beer that you enjoy in the local bars.
2. Discovery of New Beer Flavors
Beer enthusiasts prefer different flavors in different seasons. You will find that you enjoy one particular flavor of craft beer in the summer and delight in another flavor during the winter. To have this much freedom with your beer choices is what makes craft beer more popular with each passing day. Beer drinkers like to experiment with different flavors, and craft beers give them more than enough options to try out. This also compliments the continuous experiments that breweries conduct to come up with new flavors.
As a result, the craft beer market keeps expanding as the consumers seek to try out new flavors each time. This has boosted the sales of craft beer to 19.6 billion besides commanding a market share of 18% in the beer industry. The trend has seen local retailers increase the shelf space for craft beer, making it accessible to a larger number of people.
All nice dining restaurants will most likely serve craft beer. When you are looking to eat out and have some drinks, ensure that you go to one of the local bars that will serve you craft beer. It is unlikely that you will look the other way as the quality of craft beer keeps on improving to serve your varying preferences.