Popular Summer Beer Flavors You Need To Try Before The Season Ends
---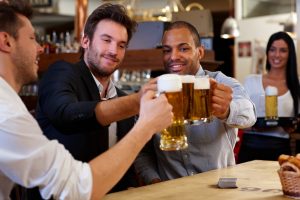 In the thick heat of summer, nothing beats an ice cold beer. But for the inexperienced craft beer lover, you might not have heard about the seasonal beer flavors taking over 2018. Without further ado, here are some of the fun flavors you might have been missing out on.
Coffee-inspired crafts
Coffee-inspired brews will give you the energy you need to stay up during those warm summer nights. Try mocha coffee flavors with hints of chocolate when you want to indulge. Whether you opt for a hardy coffee stout or a hazelnut aftertaste, when you decide where to eat, make sure your American craft beers bar offers a thick burger for the perfect pairing.
Citrus explosions
Citrus is a summer staple; if you haven't already, you need to try it in your beer for the peak of refreshment after a hard day's work. Even though you're used to pushing a lime into your corona, opting for a deliciously tart citrus pale ale will offer a combination of flavors never before experienced. A pale ale will highlight the fruity flavors instead of muddling them like you might find in some darker brews.
Cool, sweet undertones
For darker porters, a cool caramel undertone will make you feel like you drank liquid sunshine. A stout can only be enhanced by cool, vanilla notes. These luxurious styles of stouts and porters are built for cozying up to a loved one around the fire or treating yourself after a long day.
Marked malts
If you're not into sweet summer flavors, opting for a bready, bitter malt will give you the power to party all night long. Revel in the umami flavors that come with choosing a dark, rich malt through amber ales or Mexican lagers built for warm weather.
When you're choosing where to eat, looking at local seasonal beer selections is the best way to pinpoint your new favorite restaurant. Discovering new beers is just one of the best parts of being a beer drinker — in fact, 84% of beer drinkers like to choose their craft beer depending on the season. A pub that serves popular craft beers, like Dead President's Pub, will introduce you to the best seasonal beverages on the market in 2018.