How to Choose a Party Hall Venue That Won't Disappoint
---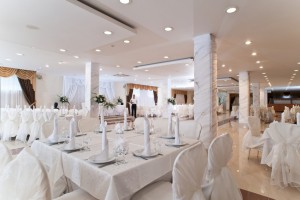 When you're planning a celebration, your first thought might be to start checking out professional catering services. But if you want to spare yourself some extra work (cleaning up your own space after a party is never fun, even if you haven't had to worry about cooking), then renting a party hall venue may be the better choice. If you find a good restaurant, you'll simply be able to go home at the end of the night along with your guests. Obviously, when choosing a restaurant, you'll need to consider availability and price. But there are some other important factors to consider, too. Here's what you'll need to think about when looking at party hall venues:
Capacity
You'll need to know how many people a space can handle before you even consider it. Don't assume that you'll be able to fudge those numbers if you end up with more people at the last minute; capacity has to do not only with the physical square footage of the venue, but also how many people the restaurant is allowed to pack in by law.
Food Selection
Of course, food should be a top priority when you're choosing where to hold your party. Make sure you actually do a tasting, rather than just looking at the menu. You might think that a burger bar is a great choice because everyone likes hamburgers, for example, but in practice that just means the quality of the food needs to be even higher. Americans eat burgers 4.3 times a month on average, a little more than once a week, so you'll need to make sure the food is truly impressive if you're going to choose this classic. A report compiled in 2009 found that meat quality is the first or second thing burger-lovers look for in a great burger.
Drink Selection
The only thing people care more about, perhaps, than food is drinks. Make sure the bar or restaurant has a wide enough selection to please everyone; as of 2014, about 41% of American drinkers said they usually choose beer, 31% reported preferring wine, and 23% reported preferring liquor. If you don't want to leave teetotalers out, ask about specialty non-alcoholic beverages as well. They'll appreciate having more than water and standard soda choices.
Ambiance
Your desired ambiance will probably depend largely on what kind of party you're throwing (high school reunion, graduation party, rehearsal dinner, etc.). But make sure to ask what decorating options the venue either offers or allows — you may be able to customize things to your taste. If you're planning an event around a holiday, be sure to confirm whether or not the venue will have seasonal decorations in place.
Service
You'll want to know your options in terms of the service set-up. Do you want a buffet? Stationary or passed appetizers? Individual ordering? Sit-down service? Some venues will offer you more choices than others.
Are you looking to book an event at a party hall venue? Share what you're looking for in the comments.