4 Valentine's Day Gift Ideas For Your Significant Beer Lover
---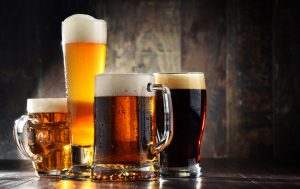 A gift from the heart speaks volumes, especially on Valentine's Day — the day of love. So why would you pull a generic box of chocolates off the shelf for that special someone in your life?
The romance behind Valentine's Day gifts isn't in the gifts themselves, but in how much you know your significant other. That being said, here are some of the top Valentine's Day gift ideas for the craft beer lover in your life.
Go out to eat
Nice dining restaurants are some of the most popular places on Valentine's Day and for good reason. Nothing can make a person happier than food. Consider going out to a craft beer restaurant this Valentine's Day to make your night that much more comfortable, fun, and easygoing.
Custom beer carriers
Beer is the favorite alcoholic beverage of 41% of adults. If your special someone is is one of them, consider getting them their own customized beer carrier. A wooden carrier with their name or even the day you met engraved on the side can be surprisingly romantic and tells your significant other you know them well. For a little something more, consider filling the carrier with craft beer if your special someone has a favorite craft beer list.
Beer-centered Valentine's baskets
Nowadays, Valentine's Day gift baskets come in a wide array of styles. Whether your special someone loves stuffed animals, books, chocolate, or beer, you're guaranteed to find one that will work for you. Or, if you're feeling creative, consider making your own. A basket with imported craft beer, mixed nuts, cheese, and dark chocolate could be just the right thing for the beer-lover in your life.
Guinness fudge
After a Valentine's date, nothing goes down smoother than a Guinness Stout —
in chocolate that is. Consider making a batch of Guinness fudge for your significant beer lover this Valentine's Day for a twist on the traditional box of chocolates.
If you're looking where to eat in Wilmington, DE this Valentine's Day, the Dead Presidents Restaurant and Pub is the place to be. Contact us today for more information on our craft beer list, drinks, premium cocktails, and pub food.