The Search for a Memorable Night Out Begins and Ends at the Local Pub
---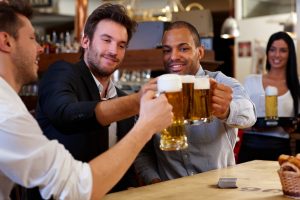 Wilmington, Delaware is a large city with plenty of things to do. Finding something to do with seemingly unlimited choices can be daunting. With so many places to sit down and dine, have a drink with friends, or just kick back and enjoy a nice night out, a visit to one of the many Wilmington pubs should be top of the list.
Combining Good Food and Endless Drinks
The magical thing about a pub is its seamless blend of a warm and inviting atmosphere with an uncomplicated food menu and, more often than not, an extensive craft beer list as well as many different premium cocktails and wines. Most pubs offer a happy hour with drink discounts and may even offer a special menu during that time. Happy hour is a great time to try a beer that you would otherwise pass by and is overall an enjoyable experience for every type of beer drinker. In fact, trying out new beers is popular with 93% of those who prefer imported beers, with 88% of domestic beer drinkers, and 84% of craft beer fans.
A staple of almost any pub is well-made burgers. There's nothing better than a good burger to pair with your favorite beer, and most pubs will even offer veggie and turkey burgers to cater to almost everyone. The menu does not begin and end with burgers either. Pub food, while not considered fine dining with unpronounceable dish names using ingredients you've never heard of, is never pretentious. Their menus are familiar, with a little bit of something for every mood and taste.
A One-of-a-Kind Experience
Wilmington pubs offer a unique experience for multiple different events and occasions. Whether you're looking to grab a drink after work with some coworkers, heading out for dinner with friends, or looking for a new bar to frequent, a pub could be just the place you're looking for. Pubs are even good restaurants for dates, offering a fun night out without breaking the bank.
For larger events, such as bachelor parties and work events, some pubs even offer event spaces to comfortably seat everyone in your party. Or maybe the office is working tirelessly and needs a burger or two to push the meeting along and get their spirits up. Many pubs offer catering, bringing the food to your doorstep; it doesn't get any easier than that.
Any way you shake it, Wilmington pubs offer an amazing experience for all kinds of events, get-togethers, or nights out in the city.