New Year, New Brew: Seasonal Beers To Break Out The Cold
---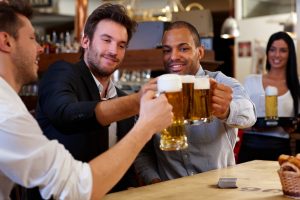 When many Americans think of seasonal drinks, they often think of cocktails or coffee during the holiday season. However, seasonal beer can be just as sweet and can keep you warm all winter long.
The majority of craft beers will range between five to 10% ABV, so you can enjoy a cold one without being cold yourself. To help get rid of the winter blues, consider the following craft beer list to light up your nights.
Einbecker Winter-bock
Fans of strong lager will be happy to know that this seasonal Einbecker is one of the best when it comes to seasonal beer. With a balance of caramel and malt, the Einbecker winter-bock is smooth and soft, giving you a rich and pleasant drink with a bit of a kick at the end.
Deschutes Jubelale
This seasonal beer goes well with any seasonal meal. The malty, fruity flavors and light spice make this beer a star on those nights when you're craving something bitter besides the chill outside.
Odell Brewing Co. Isolation Ale
Isolation Ale is another seasonal favorite among beer drinkers. For those who love malt flavors without a whole lot of bitterness, this beer is balanced out with sturdy hops and caramel flavors. Overall, Isolation Ale is a beer built for comfort on the palate.
Sierra Nevada Celebration Ale
What better way to celebrate the season than with a Celebration Ale? With up to 62 IBUs, this beer has significant bitterness so you'll want to buckle up for the ride. However, don't let its dark tendencies keep you from enjoying a bottle. Celebration Ale also has well-balanced dry hops to bring in the flavor.
The seasonal beers at your local brewery
Beer drinkers will have their favorites when it comes to winter ales. But why not try something new to start off the new year? New year, new brew. Visit your local brewery or a craft beer pub for something local, exciting, and unique.
It can be a challenge to find good craft beers when you're on the hunt for seasonal beer. Fortunately, the bar catering services at Dead Presidents Pub have got you covered. Visit your local Dead Presidents Pub today for more information on burgers, craft beer, and premium cocktails.