New Study Shows That Beer is Actually Good For You
---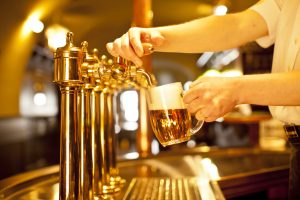 It's no secret that America loves beer. In 2014, approximately 48% of people between the ages of 18 and 34 reported that beer was their favorite alcoholic beverages. In another study, they found that 41% of U.S. drinkers reported typically drinking beer over other forms of alcohol. That being said, it's no wonder that the craft beer market is typically worth $19.6 billion, and counting. Every day after work, you'll find millions of Americans flock to their local craft beer bar for happy hour or nice dining restaurants for a tall cold glass of beer.
Despite America's love for beer, it's considered a taboo drink among dieters and health fanatics. In fear of developing a "beer belly," many a health conscious soul actively avoids enjoying a cold brewski. But now, new research is about to debunk this saddening taboo.
According to a new study led by researchers at Oregon State University, a compound in hops may help to reduce weight gain and to improve markers of metabolic syndrome.
Led by Cristobal Miranda, a research assistant professor at Oregon State University, flavonoids, found in hop, helped to improve metabolic syndrome markers in laboratory mice.
For the research, the scientists gave varying levels of the flavonoid to lab mice that were on a high-fat diet. Compared with animals who were not given any of the flavonoids, the lab mice that received the highest dosage saw an 80% reduction in their LDL — or "bad" — cholesterol levels. And compared to mice eating a rich diet without flavonoids, their weight increased by 22% less.
"This is the first time we've seen one compound with the potential to address so many health problems. These were very dramatic improvements," Miranda noted.
This is good news for beer lovers! From nice dining restaurants to craft beer bars, you no longer have to hesitate before ordering one of the many delicious American craft beers.
What's your favorite beer? Let us know in the comments below!