Leprechauns, Shamrocks, and Guinness: The History of St. Patrick's Day
---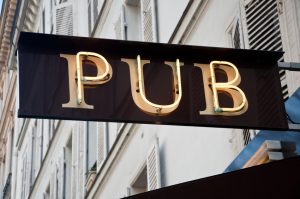 Back in 2014, 41% of U.S. drinkers reported that they typically drink beer, 31% reported to be wine lovers, and 23% liked to stay with hard liquor. But, it is safe to say that once March 17th rolls around, the drink of choice will be a cold, frothy Guinness down at the pubs.
Yes, that's right — when it comes to St. Patrick's Day in the States, every American you know will be celebrating their Irish roots. Sure, there may be a few American craft beers in hand, but for this one day a year, it is not unusual to see shots of Jameson Whiskey, Irish coffees, Bailey's Irish cream, in the clutches of green leprechauns at your local watering holes.
Let's be honest here. Besides the green shamrocks, do you really know much about the tradition behind Saint Patrick's Day? Here we explain some history behind the traditions.
St. Patrick is the patron saint of Ireland, and March 17 is celebrated as the saint's religious feast day and date of death. The Irish have celebrated this day for over 1,000 years.
St. Patrick was born as a slave in Roman Britain during the fifth century. He was captured and brought over to Ireland when he was around 16-years-old, and even though he escaped a few years later, he is known as bringing Christianity to the island.
Ever wonder why the shamrock is all over the place during March? As legend has it, St. Patrick explained the Christian Holy Trinity — the Father, Son, and Holy Spirit — by using the three petals of the native Irish shamrock.
The holiday hasn't always been a big celebration down at the pubs and party halls. In fact, it has only been since the last 300 years that people have come together for parades and festivities. Surprisingly enough, the first St. Patrick's Day parade was held in New York City in 1762, not Ireland!
One of the most traditional foods eaten in the U.S. during St. Patrick's Day is corned beef and cabbage. Because this holiday often falls in with the Christian celebration of Lent, meat is typically not allowed to be consumed. However, every year the Pope pardons Catholics and allows them to eat as much corned beef as they want on this special day!
With these fun facts in mind, come on down to our St. Patty's Day events March 13 and 17! We'll guarantee you a great, Irish time!