How to Throw a Party Beer Lovers Will Love
---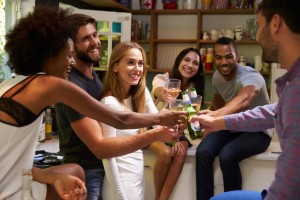 If you're throwing a party for a beer lover in your life, your first thought might be an at-home beer tasting. But this can become a bit of a pain (not to mention a drain on your pocketbook). Plus, any party you throw at home will necessarily be limited by the size of your living space. In most cases, it'll actually be much easier and potentially even more affordable to book an event hall or party catering service to take care of the logistics. Here's what you need to think about when it comes to choosing a restaurant or party catering service that will give you exactly what you need for a somewhat sophisticated beer-centered party that's far removed from the keggers of your youth — without being stuffy.
Beer Selections
The good news is that with the exploding craft beer market (which is now worth $19.6 billion), it's easy to find establishments marketing themselves as craft beer bars. But you'll want to do some research, as not all these bars are created equal. Some will offer far fewer imported and American craft beers than others. Even if you think the people at the party will appreciate having the standards available, don't underestimate the curiosity of beer drinkers: 93% of imported beer drinkers say they like to discover new beers, and that figure is 88% for domestic consumers and 84% for craft beer consumers. Be sure to ask about seasonal rotations of craft beers and any specialty local brews, too.
Food Selections
Beer is best served with food, and your best bet when it comes to pleasing beer lovers is elevated versions of classic bar food. Keep in mind that this kind of food will need to be really good in order to stand out; Americans eat burgers, for example, 4.3 times each month, just more than once a week. So be sure to taste the food in advance of your event. Also ask the staff if it's possible to have a few special suggested beer/food parings.
Activities
If you're going to be at a nice establishment or using an upscale party catering service, this probably isn't the time for old-fashioned drinking games. But that doesn't mean you can't have any fun, either. Consider planning a blind tasting contest, or ask guests to vote for their favorite beers throughout the night. These are both good ways to encourage people to try something other than standard light beers.
Other Considerations
Depending on the crowd you're planning to invite, you may also want to choose a venue that has alcoholic drinks other than beer and some nice non-alcoholic drinks. And, of course, you'll want to factor things such as ambiance and capacity into your decision when choosing a venue.
Would anyone in your life love an upscale beer-focused bash? Discuss here or on social media.