How to Find the Perfect Restaurant For Your First Date
---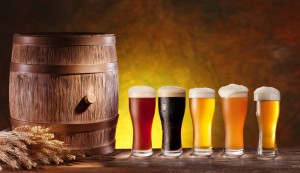 Have a big first date coming up? While the prospect of meeting a new romantic potential is indeed exciting, it also comes with a great deal of added pressure. What are you going to wear? What if you don't like each other? Where are you going to eat?
Believe it or not, environment can often be the thing that makes or breaks a first date. You don't want to go to a night club setting, as it will be impersonal and difficult to hear. On the other hand, taking a chance on an upscale establishment might create an air of formality and romance that doesn't yet exist between you and your first date. That being said, it's important to find a good restaurant that will fulfill both the ambiance requirements and the taste requirements, too!
So what should a good dating restaurant be like, exactly? Here are some things to look for in good restaurants for dates:
A Good Craft Beer and Cocktail Selection
With the amount of nerves you'll likely have on your first date, there's nothing like good craft beers or cocktails to ease the nerves. And according to research, most Americans typically look to beer to wet their whistle (41%) over wine (31%) and liquor (23%). One of the best places to go for a good pint is a craft beer bar, where they serve a lengthy selection of beers that pair well with their meal offerings. Craft beer is a $19.6 billion industry, so any good restaurant will have invested their time and money in these tasty artisanal beverages.

Delicious Yet Understated Food
When on a first date, it's imperative to find a restaurant with good food that isn't too expensive or pretentious. When finding nice dining restaurants, look for classic favorites, such as cheeseburgers. The cheeseburger has seen a great deal of transformation over the past decade or so. Burgers are the casual tuxedo: they can be plain and delicious or dressed up and fantastically unique. Considering Americans eat burgers around 4.3 times a month, a restaurant with a reputable burger is a great place to start.
Above all, don't forget to relax and have fun. Life is too short to take everything so seriously. Besides, if all else fails, at least you'll have a burger and a beer.