Don't Know a Thing About Craft Beer? Don't Worry, We Got You Covered
---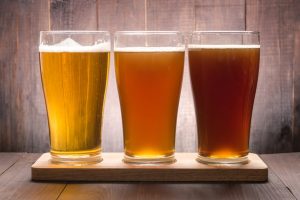 Going out for a beer used to be an easy thing. You went down to your neighborhood bar, and chances are you ordered a domestic or international beer that was produced in mass quantities. But that's all over now, and craft beer bars are reigning supreme.
Simply put, craft beer is a beer made by a small brewery. These small breweries usually make enough to supply only their bar, and they are incredibly versatile. While this is a good thing for your taste buds, your mind may be confused when looking at the craft beer list. Considering that the craft beer market is worth $19.6 billion, how do you choose from the wide variety of brews offered? How do you know if you're making the right decision?
Worry not — we have created a simple guide that will help you know exactly how to choose between the multiple craft beers on your list.
Ask for the craft beer list if you haven't already
We know this sounds like an easy step, but many bar patrons tend to forget that the craft beer list can be exceptionally helpful in describing different flavors and tastes. If anything, you'll at least be able to see if the beers are categorized by IPA, ales, lagers, stouts, porters.
Understand the variations between different types of beer
The best way to think about beers is to think about wine. There are just as many craft beers as types of wine and each has its own flavor profile. Here's a simple breakdown of the different types of craft beer:
Lager: A beer that is effervescent, has a light color, and isn't too thick.
Stout: A thick, dark beer made by roasting barley.
IPA: A "hoppy" beer with a bitter aftertaste.
Ale: A sweet, full-bodied, fruity beer.
Porter: A dark, bitter beer.
When in doubt, order a flight
If you have absolutely no clue on what to order, go for a flight! You'll be able to try a wide selection of beers to get a feel for what they taste like and what you prefer. Once you have narrowed it down, you'll be able to know with full confidence exactly what you'd like the next time you order.
Choosing the right craft beer doesn't have to be a puzzle. Remember: beer is meant to be enjoyed! And now that you're a beer expert, don't be afraid to go out and order your brew with confidence.