Burger Theory 101: Crafting the Perfect Burger
---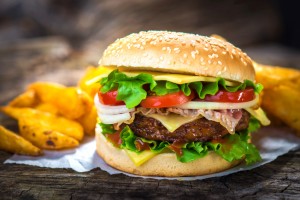 Ah, the hamburger. From craft beer pubs to dating restaurants, you won't be pressed to find a burger on the menu. In fact, Americans eat an average of 4.3 burgers per month.
But these days, burgers can get pretty fanciful. From wildly expensive Kobe Wagyu beef to decadent toppings like lobster, caviar, and foie gras, the culinary world has taken the down-to-earth American classic and has elevated it above comprehension. These days, you can find a burger in nice dining restaurants with a price tag soaring above $100!
But is it worth it? Does plopping edible gold leaf atop beef from cows that have been massaged and sang to really make the difference when biting into a juicy burger?
For years, burgers wore a more modest uniform. And while some still adhere to classic standards today, the debate over what makes a perfect burger is still hot and heavy.
So what makes an ideal burger? Here's a simple breakdown of the components that make for the perfect juicy bite:
The Buns
The bread your burger is cased in is extremely important, as it's the vessel that not only carries the burger and allows you to eat it with your hands, but which also provides the perfect canvas for sopping up excess juices, sauces and other accouterments you so dare to add. A burger bun should be firm but malleable — stable enough to not fall apart under the weight and moisture of its innards, but soft enough to hug the contents ever-so-lovingly.
The Meat
This really depends on who you talk to. Some burger fanatics like to go hard with their patty, creating complex meat blends of pork and beef or sourcing their beef from the happiest cows in Japan. But for a good, simple burger, seek out high-quality beef with an 80/20 fat content. While you can go as ham as you want on seasonings, all a good beef patty needs is some salt and fresh ground pepper. For a fast-food reminiscent burger, patties should be 3/4 to 1 inch thick.
The Toppings
While not the star of the show, the toppings have just as much weight as any other burger component. In fact, 42% of burger eaters ranked the toppings as either the first or second-most important component of a burger. So what's the secret with toppings? The key is to use them to provide the right textural elements and flavor pairings to your burger. For example, adding crispy onions, barbecue sauce, and avocados provides an excellent contrast of crunchy, salty, sweet, creamy and tangy that adds to the overall experience of the burger. If you're looking for a more classic approach, cheddar, lettuce, tomato, mayonnaise, mustard, and ketchup, creates the perfect contrast of sweet, creamy, refreshing and hearty.
So what's the moral of the story? No matter how you enjoy your burger, remember it's mostly a matter of preference. And of course, don't forget to pair your burger with one of the many good craft beers available. As 41% of all U.S. drinkers can tell you, there's nothing like a good craft beer to wash down a burger!