Alcohol and Pub Food Pairings: A Match Made in Beer Heaven
---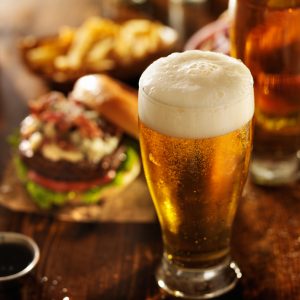 You like beer. That is why you are here reading this list, isn't it? No matter if it is American craft beers, international IPAs, pale ales, stouts… you name it. You're the friend that will be found at the bar for happy hour, choosing a restaurant based on its beer selection, and making friends wherever you go.
But, you also like to eat, right? Check out these pub food pairings for the next time you're at one of your favorite local watering holes.
Soft Bavarian-esque pretzels and Sam Adams Summer Lager
Pretzels and beer go together like peanut butter and jelly. Soft pretzels are all the rage lately, so you're likely to find them on offer at a lot of places. They can be a heavy snack, however, especially if they're served with a cheese sauce for dipping. Just pair these nibbles with a light pale ale, like Sam Adams. It goes down smoothly, is refreshing, and won't take too much away from those German nuggets.
Guinness and ribs
You know what you like when you are having a Guinness. Guinness stout isn't for the faint-hearted, but if you enjoy the dark, substantial flavors of stout, trying pairing it with braised short ribs. Guinness can stand up to the intense flavor and richness of ribs, unlike a lighter beer that would taste like water if served with this cut of beef. Your Guinness will come in all its frothy glory between 34 and 38 degrees Fahrenheit, so it will keep you cool when you need it the most.
Chicken wings and Angry Orchard cider
Chicken wings are a bar food classic. After all, they were first invented to satisfy the desires of some beer-drinking Buffalonians, back in the day. Particularly if you opt for the "hot," "extra hot," or "suicidal" sauces, you'll need some Angry Orchard to tame the theat. The sweetness of the cider cuts through the wings' spiciness, providing a balance and a welcome distraction from that burning sensation on your tongue.
Newcastle Brown Ale and fish and chips
Cheerio, mate! Take a lesson from the British with this perfect paring. As delicious as it is, fried fish can be a bit on the greasy side, but that Newcastle will help cleanse your palate.
IPA Craft beer and a burger with fried egg
Burgers are an American obsession. On average, we eat burgers 4.3 times each month, and since 42% of consumers rate their toppings as the most important part of the burger, it's important to factor those toppings in when you're choosing the right beer to go with your burger. Try an egg, onion rings, avocado, BBQ sauce or all of the above! An India Pale Ale, or IPA, is versatile enough to match up well with any of these add-ons.
Of course, both craft beer and food are meant to be enjoyed, so while there are plenty of guidelines for pairing your cold one with something from the oven, the most important rule to remember is that if you like it, drink (and eat) it!