4 Best Beer Styles for Spring
---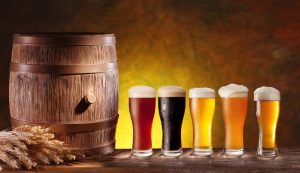 If you consider yourself a beer aficionado, you're probably part of the 84% of craft beer consumers who like to choose their beer depending on the season. With spring quickly approaching, there are countless beers available at pubs all over the nation to give your tastebuds a much-needed spring awakening. If you're looking for craft beer styles that are great to drink during the sunny spring months, here are a few of the best.
Pilsner:
Pilsner originated from the now-Czech Republic town of Pilsen in the early 1840s. It was the first beer of its kind, as previous beers were known for being darker and heavier. Pilsner brands are known to be clean, crisp and almost spicy flavored, making them perfect for spring. Pilsner brands are great for drinkers who want a simple beer with no overly intense flavors or alcohol content.
Helles:
Next time you go to a craft beer pub, consider trying a variety of Helles. Helles first rose to popularity in Germany as a sort of 'answer' to the popularity of pilsner. It was first released in March 1894. Helles may look dark, but it's not known for being bitter or hoppy. It's actually considered to be malty, sweet, and light, making it perfect for spring. It's also known for being consumed by those who say they aren't huge fans of beer.
Cream Ale:
Cream ale is a staple in most American craft beer bars. It's one of the only three styles of beer to be born in the United States. Cream ale started becoming popular in pubs in the early 1960s and is known for having a lighter body due to the addition of rice and corn. Overall, they have a taste that many people think of as 'bready' and have a sweet aftertaste.
Kolsch:
You can probably tell by the name that this style of beer was born in Germany. It's probably the fullest-tasting beer on this list, and it's made in a similar style to cream ale: fermented and aged at cooler temperatures. It doesn't have the sweetness of cream ale, but it still has a clean finish. It's distinctively crisp, so it will be perfect for any particularly warm spring day.
Ultimately, finding the right spring beer is about personal preference. For more information about craft beer styles, visit Dead Presidents.